Drawing – Exhibition
Feb 28 – Mar 13 2020
featuring
Nicholas B Robinson, Laura Cronin, Jenny Fox & Others
This exhibition offers a unique insight into how the artist works and thinks. The drawings are beautiful works in their own right their choice of medium commonly as a painter. Often drawings are not intended for public display but a mere study for a particular work. The Wilton is delighted to devote this exhibition to drawings, to quote Salvador Dali – " drawing is the honesty of art. There is no possibility of cheating. It is either good or bad"
The works will be of different sizes, medium, and prices.
Winter Exhibition
Nov 16 – 24 Dec 2019
The Wilton Gallery is delighted to hosts it's first winter exhibition. The exhibition will run-up to Christmas. It will showcase paintings in landscape, abstract and portrait by a range of gallery artists, whose work can be found in public and private collections. The display of their knowledge and technique in the medium of paint and the mixed medium is prevalent in Irish Art today.
The works will be of different sizes, medium, and prices.
The works provide an opportunity to provide a special gift for your loved one or a corporate client this Christmas.
Antiques & Collectables Event
28 Nov 2019
We are delighted to announce Fiona O Rielly of Sandycove Fine Arts, who provides the gallery with a selection of antiques, will be hosting an evening on Thursday 28 September 2019, between 6-8pm, with a display of her winter collection for sale.
Join us to enjoy the wonderful winter atmosphere soaking up the village celebrations of the turning on of the lights while perusing the collection.
RSVP: Fiona by text or phone at 087 640 3688 or email fionaoreillyantiques@gmail.com.

JOHN MINIHAN – 'beckett and the wake'
24 October, Thursday, reception at 7 pm – talk 7.15pm
Ticketed event
The Wilton Gallery presents the Wilton Series in which the Gallery meets key figures from the world of the visual arts, film, literature and music.
In this series, we invite the renowned, Irish Photographer John Minihan.
He is one of Ireland's most celebrated photographers famous for his iconic portraits and landscapes; Lady Diana Spencer, Samuel Beckett , W.H Auden, Seamus Heany, Francis Bacon, Lucien Freud, Enda O Brien, Patti Smith David Hockney…and the list goes on, in a career spanning 55 years. William Burrows once described him as a 'painless photographer.'
In this engaging talk, Minihan shares his insights about his; works, influences, love of black and white photos, the essence of good photography and, what interests him now.
Minihan (born 1946 and now a west cork resident), he was born in Dublin and raised in Athy before moving to London at the age of 12. By 21 he had become the youngest staff photographer for the Evening Standard. In between documenting Athy on visits to home, he continued for 30 years as a fleet street photographer.
Minihan close relationship with the titans of the art and literary world makes compelling listening.
We will have a select number of his iconic photographs on display.
Jenny Fox 'Moment'

Sept 20 – Oct 4, 2019
Jenny Fox has crafted out a recognised body of work as an abstract expressionist painter, focusing on catching her experience of a place rather than painting the place 'I am trying to express how I experience them.' Much of her inspiration comes from her surroundings in Tipperary and Mayo. Her challenge is always in pursuit of the 'stillness of being' or 'a moment in time.' The results are almost iconographic images of places that show energy and emotion.
Wilton Gallery Opening in Sandycove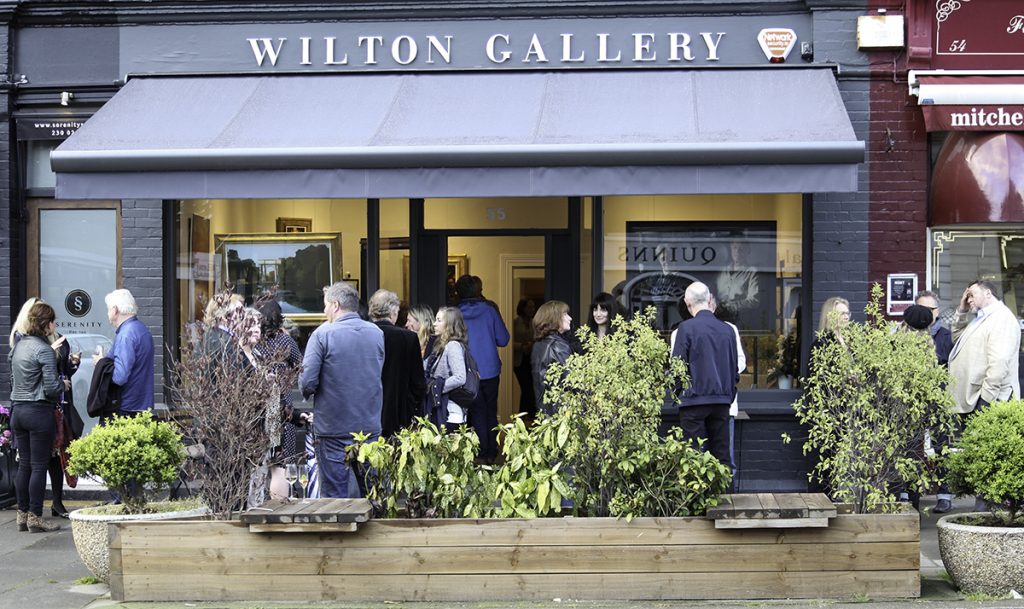 There was a great turn out on Friday, May 24th 2019 for the launch of the Gallery. The Gallery was delighted to have its doors officially opened by Dr Brenda Moore Mc Cann.